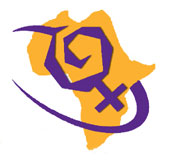 Français
About Us
Activities
News
Resources
Events
Pula E-Newsletter
Join Us!
Updated June 2006
[email protected]
tel: +27 11 726 1692
fax: +27 11 726 1692
P.O. Box 29755, Melville, 2109
South Africa


APC-Africa-Women is a network of organisations and individuals that work
to empower African women's organisations to access and use Information
and Communication Technologies (ICTs) for equality and development.
APC-Africa-Women is the Africa regional programme of APC's Women's
Networking Support Programme.
Working with women in Africa and all over the world, APC-Africa-Women
focuses on African women's empowerment through information facilitation,
regional support, lobbying and advocating around gender and ICTs, delivering
ICT training, conducting research into gender and ICTs and participating in
regional and global events.

Financial support provided by Hivos.
What's New! Click below
WENT Africa 2005 blog – FOSS for women
The Role of Information and Communication Technologies in the Development of African Women
breitling replica watches